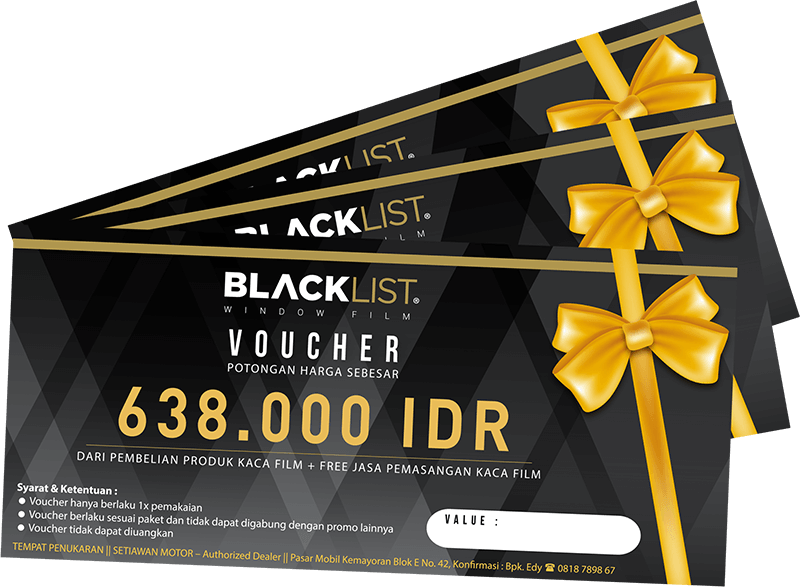 Potongan harga sebesar Rp. 638.000,- dari pembelian produk Kaca Film + Free Jasa Pemasangan Kaca Film.
Syarat & Ketentuan :
Voucher hanya berlaku 1x pemakaian
Voucher berlaku sesuai paket dan tidak dapat digabung dengan promo lainnya
Voucher tidak dapat diuangkan
TEMPAT PENUKARAN || SETIAWAN MOTOR – Authorized Dealer
Pasar Mobil Kemayoran Blok E No. 42,
Konfirmasi : Bpk. Edy 0818 7898 67
About us
Why BLACKLIST?
BLACKLIST is a window film brand that is especially designed to offer you with a solution to avoid the unnecessary danger of the infrared and ultraviolet from the sun when you are driving in your car, or even when you are at your very own home. Blacklist Window Film is created using Carbon Ceramic technology, resulting in a product that has a high clarity yet with a very high capability to block the sun. BLACKLIST window film can protect you from the brightness of the sun from hurting your eyes, or the ultraviolet from causing your skin cancer. The film itself does not contain metal, so there is no harm in using your mobile phone, radio, or GPS if your car or house is tinted with BLACKLIST window film. It also able to protect the contents in your car and/or house from the damage that the sun may cause, because of its ability in blocking the heat from the sun, the BLACKLIST window film keeps the temperature in your car and/or house down. Hence, it assists you in living a life that is energy and cost efficient. Not only the high quality window film that BLACKLIST offers to you, it also offers you with a high safety and durabality. BLACKLIST window film keeps all the window pieces together when it is broken. For these reasons, BLACKLIST is one of the best window film in this world that we offer.